Healthy Active Cities
Healthy Active Cities are a research group looking at active travel and sustainable transport. Active neighbourhoods are being introduced across Greater Manchester as part of the Bee Network. Active neighbourhoods are places where people are prioritised over vehicles and are part of a policy landscape seeking to connect place and mobility and to develop local neighbourhoods where people can enjoy walking and cycling with confidence.
Studio Salford were approached with the task of producing several illustrations, to display how these neighbourhoods could potentially look with the changes to create 'active neighbourhoods.'
Recent Graphic Design graduate, Andrea Motta was selected to work on the project as his illustrative style and creative flair was the perfect style the client was looking for. Andrea produced some fantastic designs which have featured in the report, which can be viewed here: https://blogs.salford.ac.uk/healthyactivecities/low-traffic-neighbourhoods-as-process-in-greater-manchester/
Below are some of the illustrations produced for the project.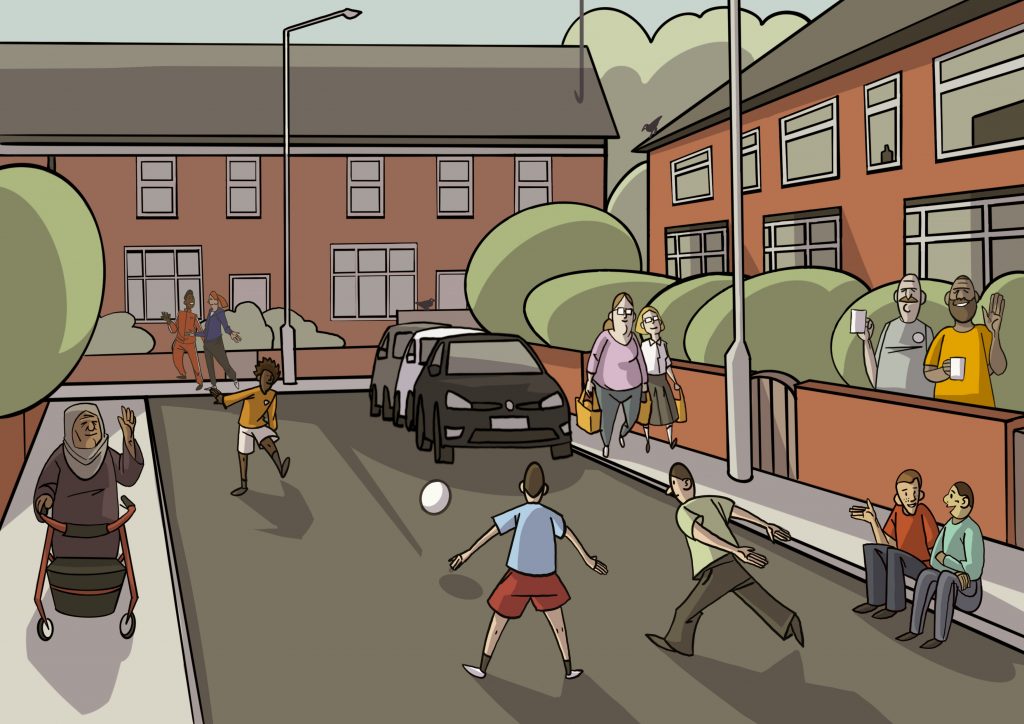 We were also asked to update the current logo Healthy Active Cities were using. Another recent Graphic Design graduate (Ryan Lawton) revised the logo and modernised it with a fresher colour, along with some suggested complimenting colours for the client.

"Studio Salford provide an invaluable service that reflects a good understanding of how Universities and academics work. They arranged for Andrea Motta to provide illustrations for our report on active neighbourhoods. Andrea was able to take quotations from our research interviews and bring them to life in excellent scenes that not only captured the essence of what the interviewees were saying, but also represented a diverse population."

Graeme Sherriff, Co-Director, Sustainable Housing & Urban Studies Unit (Healthy Active Cities).
"Creating the illustrations for Healthy Active Cities gave me the chance to approach illustration through the lens of storytelling, where I could populate a street full of little vignettes of everyday life, of people interacting with each other with little gestures.

As an illustrator starting my creative career this was an amazing opportunity, thanks to Yasmin Stopford at Salford Studio for the constant support and professionalism and Graeme Sheriff for this unique opportunity that taught me a lot and refined my skills."

Andrea Motta, Graphic Design Graduate.