From Salford: Alumni Magazine
In 2021 we were approached by The University of Salford, to source a creative designer. The project was to work on the new front cover of the Alumni Magazine, ahead of its release in January 2022.
With their references and ideas, we hired a recent graduate (Hannah Kirkland) to work on the magazine cover. The cover was to have a magazine-snippet style, whilst bringing together the environmental projects the University is involved in.
The full magazine can be downloaded here: https://www.salford.ac.uk/alumni/magazine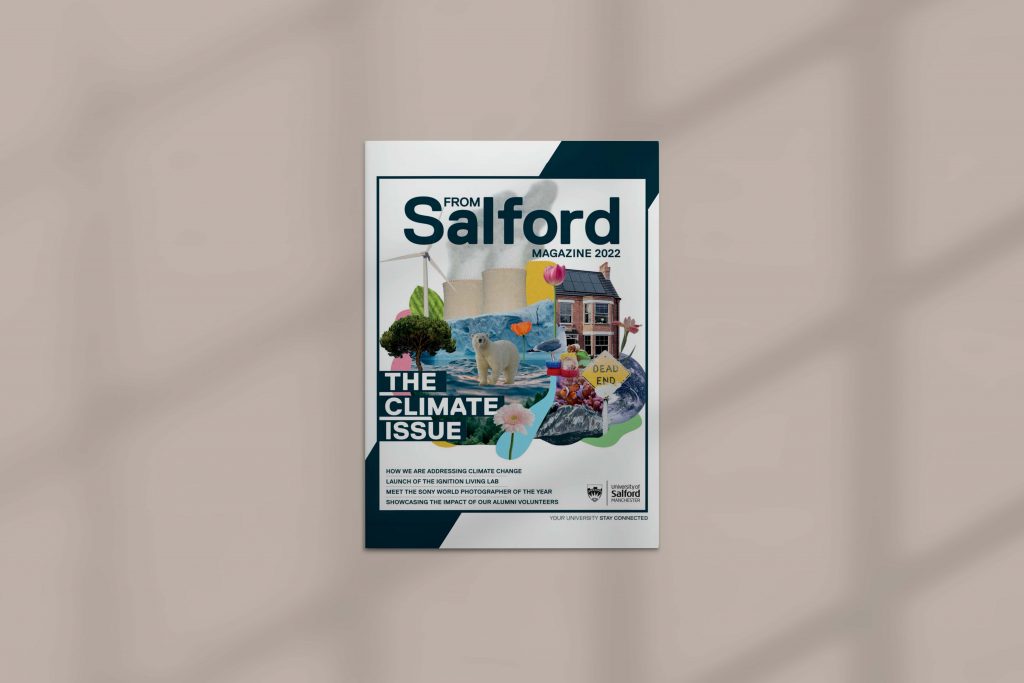 "It was a pleasure to work with Studio Salford on the design for the cover image of From Salford Magazine, the University's annual magazine for graduates. We really wanted the cover of the magazine to show off the amazing environmental projects that the University is involved in, as well as pique interest and get people to pick up the magazine and give it a read. I already had an image in my head of how I wanted the cover to look, but Hannah surpassed my expectations and delivered way more than I could have imagined. She brought the vision to life I'm delighted with how the magazine looks!"

Paul Butlin, Alumni Communications Officer at The University of Salford
"Working with Studio Salford is always a pleasure. The level of communication and exciting briefs provided make the design progress both enjoyable and hassle-free."

Hannah Kirkland, Graphic Design Graduate