Celebration of Innovation
The Celebration of Innovation Awards were held at The University of Salford in July 2023. The event was held to reward Research, Enterprise and Engagement across the University.
Studio Salford were tasked with supporting the event in various ways. Firstly, we created a logo for the event, which was designed by one of our recent BA Graphic Design graduates Alice Harding-Wragg. The client wanted the logo to be simplistic, which some form of cog imagery to be included.
The logo itself featured on the physical awards and also paved the way for the creation of the whole award shape.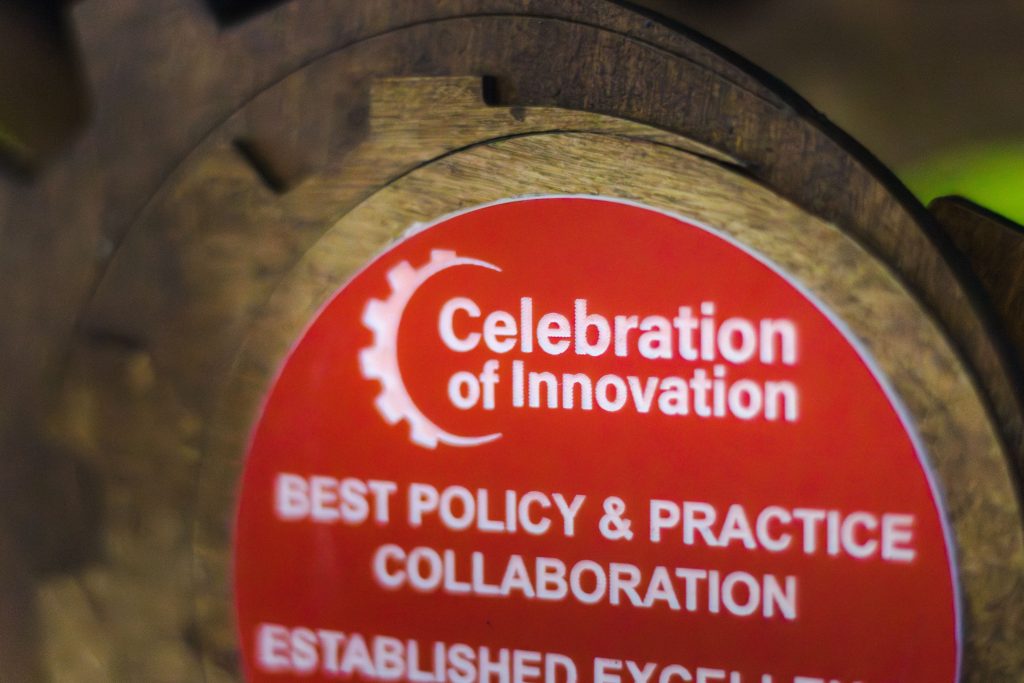 Alice also designed a booklet to accompany the day, including information on the speakers, nominees and timetable of events.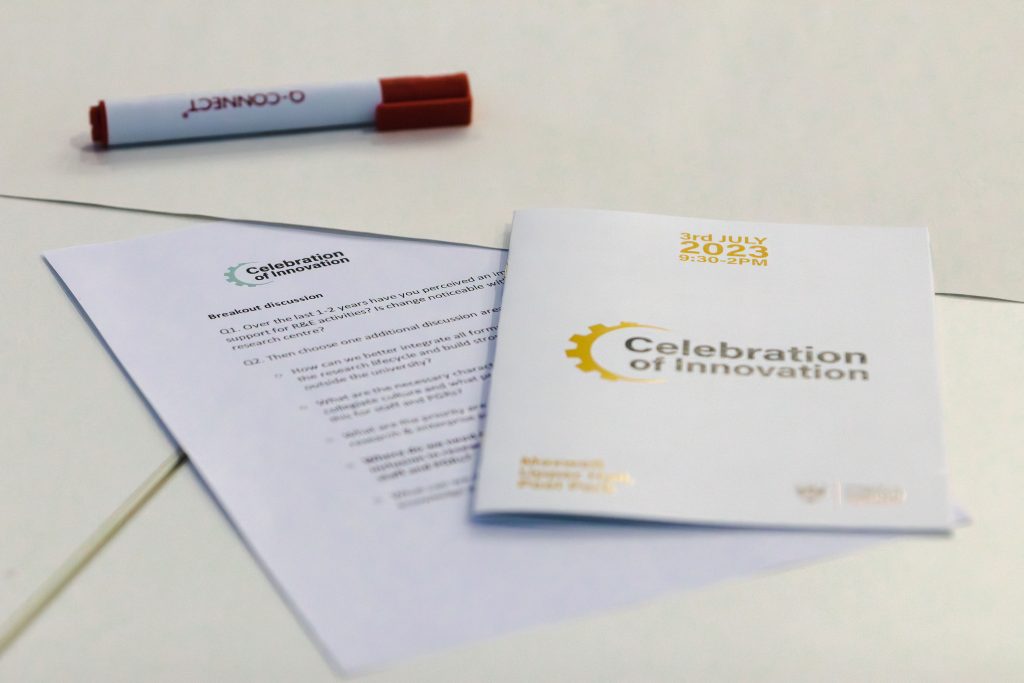 The event was photographed by Maciej Soński, who is a current BA Film Production student. The images taken were of the awards being received by the winners and also general interactions throughout the day.
"Studio Salford have been great to work with from our first discussions about the services we required for an event we were organising to making sure that we received all the material generated and that we were happy with the final products. Communication was fantastic throughout. The two students that we were connected with to create and produce a logo and booklet for our event and to take photographs at the event were incredibly talented, professional and responsive to our requests and feedback. I look forward to having the opportunity to work with Studio Salford in the future and would highly recommend."

Dr Angela Midgley, Research and Development Manager (The University of Salford)
"I have really enjoyed being given the opportunity to work on my first project with Salford Studio. I designed a booklet for the Celebration of Innovation award show. It was a great experience and I loved getting creative. Salford Studio and the client I worked had great communication throughout, making the design process smooth. I look forward to working on any more future projects."

Alice Harding-Wragg, BA Graphic Design graduate
"The communication throughout the process, spearheaded by Yasmin Stopford, was characterised by crystal-clear, concise, and thorough explanations. Yasmin's meticulous attention to detail and remarkable ability to convey all the essential information not only put my mind at ease but also ensured that I grasped the intricacies of the photography assignment and the associated expectations.

During the actual job, I had the pleasure of working alongside the incredibly supportive Angela and her assistant, who played pivotal roles in offering last-minute guidance and briefing. They also exhibited an admirable willingness to consider and incorporate my suggestions, such as the idea to open the curtains in the room, thereby allowing an abundance of natural light to flood in. The entire team proved to be exceptionally friendly and accommodating, fostering a delightful and collaborative working environment. Furthermore, I must express my utmost appreciation to Angela for her thoughtfulness in arranging the necessary permissions to photograph all individuals present at the event."

Maciej Soński, BA Film Production student